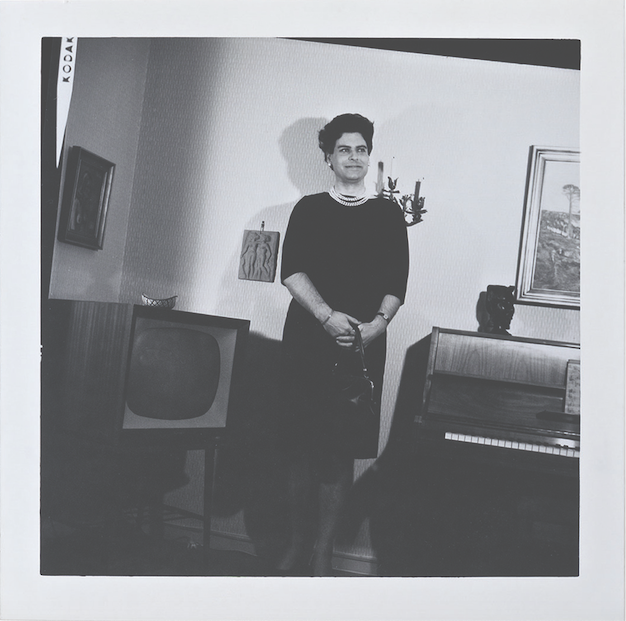 Eva-Lisa Bengtson. Image courtesy of Sam Hultin
Eva-Lisa's Monument
Artist: Sam Hultin
Ongoing walks, videos, celebrations and readings around Eva-Lisa's archive.
Activation in the framework of A Movement to Hold: 17 March 2023, 6-8pm at Uppsala Konstnärsklubb
(EN)
Eva-Lisa's Monument is an ongoing memory work about the lesbian activist and trans pioneer Eva-Lisa Bengtson (1932-2018) run by artist Sam Hultin. In addition to starting the first club for trans people in Sweden – Transvestia in 1964, Eva-Lisa was also part of founding Kvinnohuset – The Women's house in Stockholm (1979), the trans organisations FPE-NE (1966) and Benjamin (1979) and was active in several organisations such as Lesbisk front, RFSL Stockholm and Golden Ladies. Despite her great importance for Sweden's trans and queer movement, few has known about her work, partly because she could never, because of her family, live full time as a woman. In 2017 Sam Hultin made a series of filmed interviews with Eva-Lisa and after her passing, Sam took over Eva-Lisa's archive with material connected to her life as an activist. Since 2019 they have, through city walks, videos, anniversary celebrations, public collective readings, texts etc. worked to make the archive and Eva-Lisa's story accessible to more people.

Read more about the project.


(SV)
Eva-Lisas monument är ett pågående minnesarbete om den lesbiska aktivisten och transpionjären Eva-Lisa Bengtson (1932-2018). Förutom att starta den första klubben för transpersoner i Sverige – Transvestia 1964, var Eva-Lisa också med och grundade Kvinnohuset i Stockholm (1979), transorganisationerna FPE-NE (1966) och Benjamin (1979) samt var aktiv i organisationer som Lesbisk front, RFSL Stockholm och Golden Ladies. Trots hennes stora betydelse för Sveriges trans- och queerrörelse är det få som har känt till hennes arbete, bland annat för att hon på grund av sin familj aldrig skulle kunna leva på heltid som kvinna. 2017 gjorde Sam Hultin en serie filmade intervjuer med Eva-Lisa och efter hennes bortgång tog hen över hennes arkiv med material kopplat till hennes liv som aktivist. Sedan 2019 har Sam, genom stadsvandringar, filmer, jubileumsfirande, offentliga läsningar och texter etc. arbetat för att göra arkivet och Eva-Lisas berättelse tillgängliga för fler.